First of all, Brunton is now Brunton Outdoor Group. This group is made up of Brunton, Primus and Brunton Hunting. Brunton is portable power, navigation and illumination while Primus is now the stove and cooking arm of Brunton. Brunton/Primus make some of the best stoves around. Their Eta Power and Express lines are phenomenal. They pump out BTU's for high power and quick boil times and the construction is second to none allowing for durability and complete field maintenance. Overall their stoves match or exceed any other brand in the market. The other product categories are top notch as well. Everything from their solar charging products to headlamps and lanterns works extremely well.
The product I am reviewing is a stove that I purchased from Sierra Trading Post
. Now I work for STP, but this stove was just too good of a deal to pass up. It is perfect for car camping and I knew I could use it on my trips to Ouray when we stay in primitive cabins on the outside of town. I have had it for a couple years, so I know the ins and outs of this product very well. Onto the review...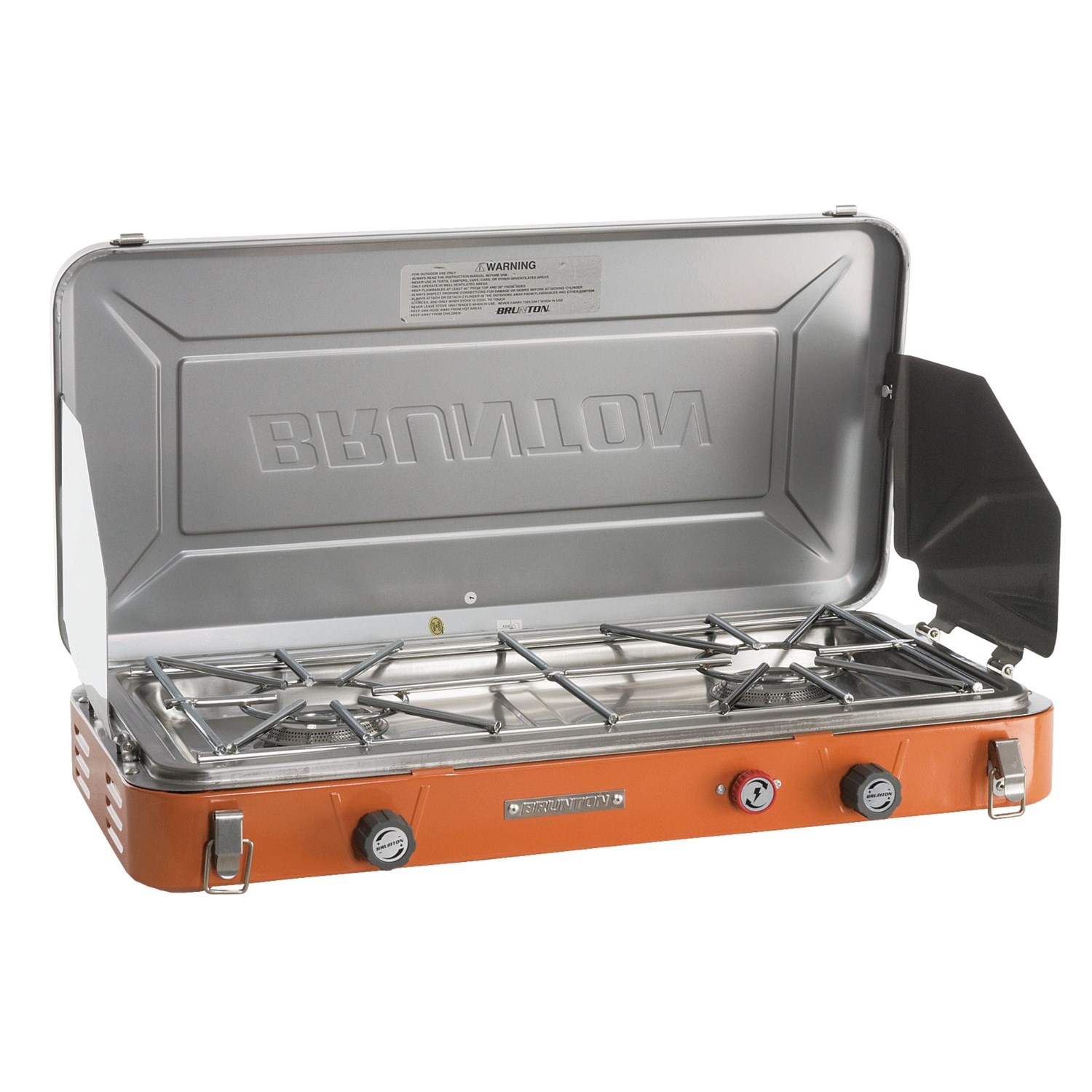 The Brunton Profile Two-Burner Stove
The
Brunton Profile Two-Burner Stove
is easy to use, powerful and extremely portable. This stove cranks out the heat (12,000 BTU per burner) using a simple 1 pound propane bottle that connects to the stove using a Quick Connect flexible hose. The typical burn time for a full bottle is about 90 minutes. This particular model has a Piezo ignition which makes it easy to start. You simply connect the fuel, turn on a burner, listen for the fuel flowing and hit the ignition button. Two dials on the front allow you to boil water in just a couple minutes for freeze dried meals and noodles or set the stove to simmer for those quesadillas, eggs or pancakes. The dual burners are a huge benefit because they allow you to actually cook! You can have eggs going in a fry pan on one burner and pancakes in the other or rice in a pot on one side and chicken in a fry pan on the other. The possibilities are endless and the ease of use makes it all efficient. The fairly small size and light weight design compliments the entire setup because you aren't carrying around some monstrosity. I wouldn't recommend backpacking with it, unless you have more than 3 people, but you could. It would do well as a base camp workhorse.
Check out more after the break.
There are a couple more benefits, but one of the most important ones are the wind screens on the sides of the stove. You can see them in the picture above and below. They make a huge difference while cooking. First they keep the wind out. Second they connect to the top lid to form a rigid system. Third they are stainless steel just like the rest of the stove, so you know the whole system is solid and durable.
Better picture with the side panels
Closed and ready for transport
Having a great stove is always an essential whether you are car camping in Moab or backpacking the Wind Rivers. Either place demands great functioning equipment that gets the job done right. Multi-fuel stoves are key for backpacking, but if you ask me I'll take a nice big easy to use cooking space anytime.
I recommend the two-burner setup that I am reviewing here, but there is another option. STP also has the Brunton Profile Duo Stove-Grill Combo. This combination is great if you like to grill. Check them both out. Either way you go you won't be disappointed.
Final Say: Hope you're hungry, because dinner is served...or breakfast, lunch or linner. This stove is great for car camping and base camp setups. The only drawback is that it can only use 1 pound propane bottles for fuel.